Reblogged from JYJ3.net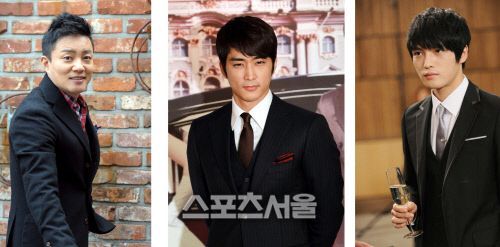 A man vs man showdown will unfold in television dramas this coming May 26. SBS's A Gentleman's Dignity and MBC's Time Slip Dr Jin (hereafter Dr Jin) will be pitted against each other in the same time slot. It will lead to a competition of top male star appeal. A Gentleman's Dignity will star Jang Dong-gun, Kim Soo-ro, Kim Min Jong and Lee Jong Hyuk while Song Seung-heon, Lee Bum Soo and Kim Jaejoong will be starring in Dr Jin.
As it is not the domination of just one top male star, it is a rare attack on the mainstream weekend television screen since several of them will be appearing in dramas together. The first broadcast of A Gentleman's Dignity will begin on May 26, after the conclusion of Dummy Mummy. Dr Jin will also be shown on May 26 after the conclusion of Feast of Gods.
(information unrelated to Dr Jin omitted)

"Dr Jin", Star army synergy effect on popular original manga production
Dr Jin will be based on an original Japanese manga production by Murakami Motoka. It is different medical drama where the best South Korean surgeon in 2012 travels through time and space and arrives in 1860 Joseon era. Medical drama – the key to television drama success, Sageuk and the transcedence of time and space make up the main content of Dr Jin. Han Hee who previously directed Super Rookie, Merry Go Round and The Largest Bean Chaff of My Life will direct Dr Jin. Han Ji-hoon and Jun Hyun Jin will be the screenwriters.
Hallyu star Song Seung-heon will play Jin Hyuk, the genius doctor who leaps back 150 years into time. JYJ's Kim Jaejoong will play the best military officer in Joseon Kim Kyung Tak, who comes from a military family. "Box office invincible" actor Kim Bum Soo will take on his first Sageuk acting challenge as Lee Ha-eung, a person who seizes every opportunity that comes his way. His character is based on a historial character Heungseon Daewongun. Kim Jaejoong in his 20s, Song Seung-heon in his 30s and Lee Bum Soo in his 40s will each represent their generations. There is increasing anticipation for an enthusiastic performance by the male actors who take pride of their individualities and charms.
Blogger Note:
I have faith in 'Dr Jin'. This drama will be ANOTHER BOX OFFICE like "Protect the Boss' and all drama stars by JYJ members