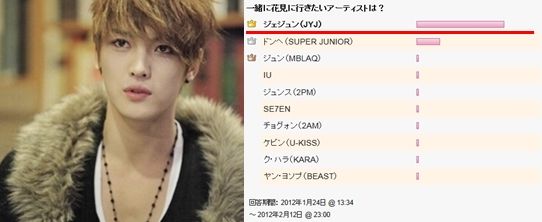 JYJ Kim Jaejoong was chosen as the No. 1 "Celebrity That I Wish To View Cherry Blossom With" for the annual cherry blossom viewing festival.
In the March edition of Japanese k-pop magazine 'music bank', it revealed the results of the poll (from 24th January to 12th February) of "The Celebrity That I Wish To View Cherry Blossom With" which was targeted at Hallyu fans. Kim Jaejoong won over popular Super Junior Donghae and IU easily in this poll with support over 50%, gaining 1st place. Hallyu fans commented that, "Jaejoong is prettier than cherry blossoms", "It would be so great if I was able to hold hands and stroll with him" etc.
Additionally, Kim Jaejoong was also voted 1st as "The Celebrity That I Wish To Eat Lunch With" in the magazine. Although they are currently unable to participate in activities in Japan due to ex-agency's issues, JYJ's popularity in Japan is still as soaring as ever.
Meanwhile, the tour that started in Thailand since last April and was then held in Asia, North America and Europe, JYJ continued with their concerts in Santiago, Chile at Theatro Caupolican and Peru's Explanada Sur del Estadio Monumental on the 11th, thus successfully concluding their world tour.